Ilmenau on the evening of July 1, 2023. People glance at their mobile phones to check if they'll need an umbrella due to the weather. But is that all? No!
Some of them look at their phones to read about a pink-blooming wild plant: Epilobium angustifolium, it says, the Narrow-leaved Willowherb. Belongs to the Evening Primrose family and grows at the forest edge. Or Hypericum perforatum, the Common St. John's Wort. "I know that as tea! So that's how it looks?" Yes!
These situations and many similar ones were experienced as, on July 1, 2023, the doors of (among others) the Zuse Building at TU Ilmenau opened for Ilmenau Science Night, and many interested people came by to "personally meet Flora Incognita." And we were well-prepared: With blooming wild plants in pots, an app quiz, and botanical tours around the university campus, but also with advanced offerings like microscopic examination of phytoplankton or information stands that explained how the Artificial Intelligence behind Flora Incognita is already being used to identify field wildflowers through drone images, or to support urban planners in creating bee-friendly landscapes.
Another focus of our presentation was to educate about how we conduct research with the plant identifications from the Flora Incognita app. Our scientists were eager to point out that the data already allows for the detection of phenological shifts in plant flowering phases, or that the spread of invasive species like Impatiens glandulifera can be monitored. In light of ongoing climate change, such information is very valuable; and with Flora Incognita's new project feature, it's easy for nature enthusiasts to conduct their own citizen science projects and analyze the observation data collected.
It's always something special to engage with long-time fans and learn which aspects of the app are particularly popular and which ones have room for improvement. But we're equally proud when we can dispel skepticism and encourage people to simply try out the app and start identifying plants. Fun Fact: Secretly, we like to count how many new installations we can achieve through our on-site efforts at such events!
But it's not just in Ilmenau where we could convince: Also in Göttingen, where on June 23, in honor of the 75th anniversary of the Max Planck Society, Max Planck Day took place, we were present with an information booth on the marketplace. Unfortunately, due to persistent rain, not many people were out and about, but that allowed us to engage in longer and more intense conversations with interested individuals about our app, the loss of biodiversity, and our research work. In Göttingen, we were joined by scientists from the ATTO Tower (MPI for Biogeochemistry Jena and MPI for Chemistry Mainz), who invited attendees to climb the measurement tower in the Amazon rainforest and talk about their climate research using a VR station. A special highlight of the day was the visit of Prof. Patrick Cramer, the new president of the Max Planck Society, to our booth.
At this point, we would like to extend a heartfelt thank you to everyone who took the time to convey praise and criticism, ask questions, and be curious. Thanks also to Manuel Maidorn and the staff of the Max Planck Institute for Dynamics and Self-Organization in Göttingen for providing the many plants at the booth! Our gratitude also goes to our sponsors who make this public outreach possible.
See you soon!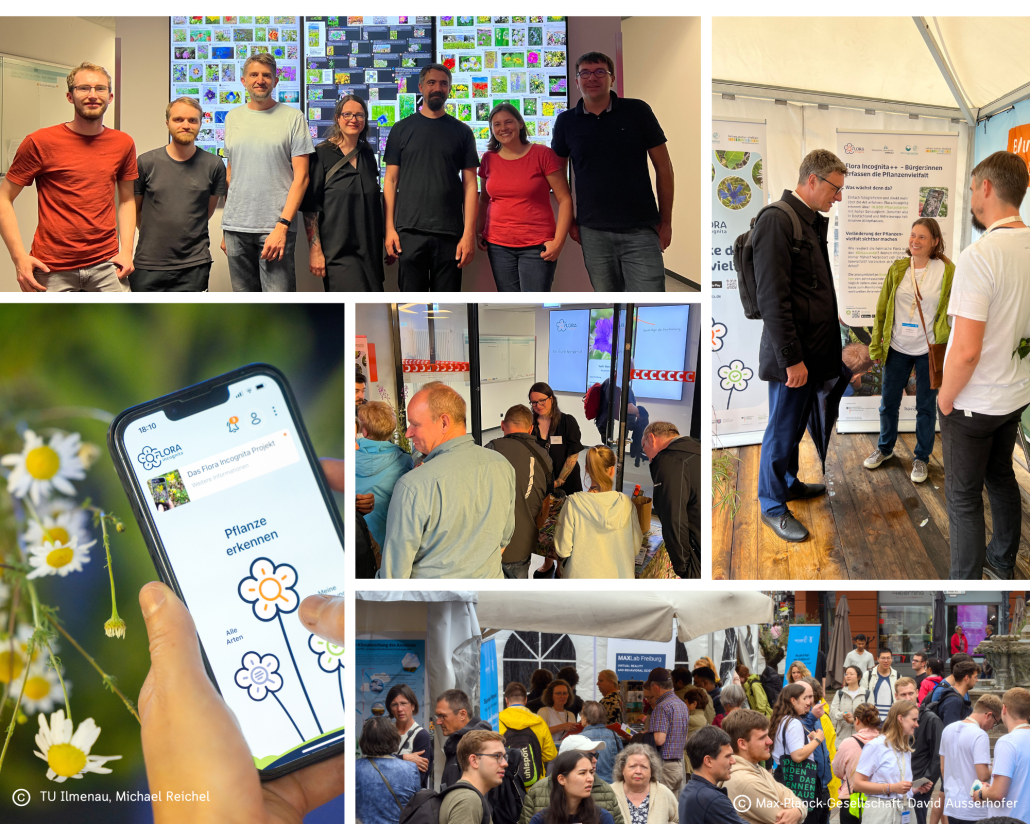 Title image: Max Planck Society, photograph by David Ausserhofer
https://floraincognita.com/wp-content/uploads/2023/08/Blog-IWN-MPD.png
600
1600
Anke Bebber
https://floraincognita.de/wp-content/uploads/sites/4/2022/11/flora-incognita_logo_horizontal_RGB-e1669665654345.png
Anke Bebber
2023-08-24 12:57:03
2023-08-24 12:57:03
Ilmenau Science Night and Max Planck Day 2023