Structure and functionality of the Flora Incognita app
The Flora Incognita app currently allows the automatic identification of more than 16.000 vascular plant species. The identification process is intuitive: take a picture of the plant with the camera of the smartphone or tablet. The unknown plant is then automatically identified in seconds. In addition to the identified plant species, a fact sheet displays further information such as characteristics, distribution, or protection status. The app was launched in April 2018 and is freely available in 20 languages for Android, iOS, and Harmony OS devices. The Flora Incognita app consists of four main usage scenarios accessible from the app's home screen: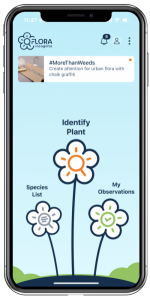 1
This is where you start the photo-based identification process.
2
Here you can find all species currently supported by the Flora Incognita app.
3
Here you will find all your saved observations.
4
Here you will find further information about the app's functionalities and the latest news.
Identify plant
The app guides users through an adaptive process of taking one or more images depicting specific organs of an unknown plant, such as a flower or a leaf. Which images are requested and in which order is determined automatically based on an observation's context, that is, the growth form of the unknown plant, the current season and already acquired information. The identification process requires an internet connection for transferring images and metadata to the server and receiving results. In areas without network coverage, users can capture unknown plants and save those observations in offline mode. When, later, there is a network connection, those plant findings can be identified with all important metadata pertaining to that image (i.e. date and location). All images are analyzed using a cascade of deep neural networks on the Flora Incognita computer cluster. The app will either suggest a single plant species or a short list of similar species ranked by the identification probability. For each species, a comprehensive fact sheet and informative images depicting different perspectives and organs are provided. Users are requested to confirm the correct species at the end of the process to commit an observation.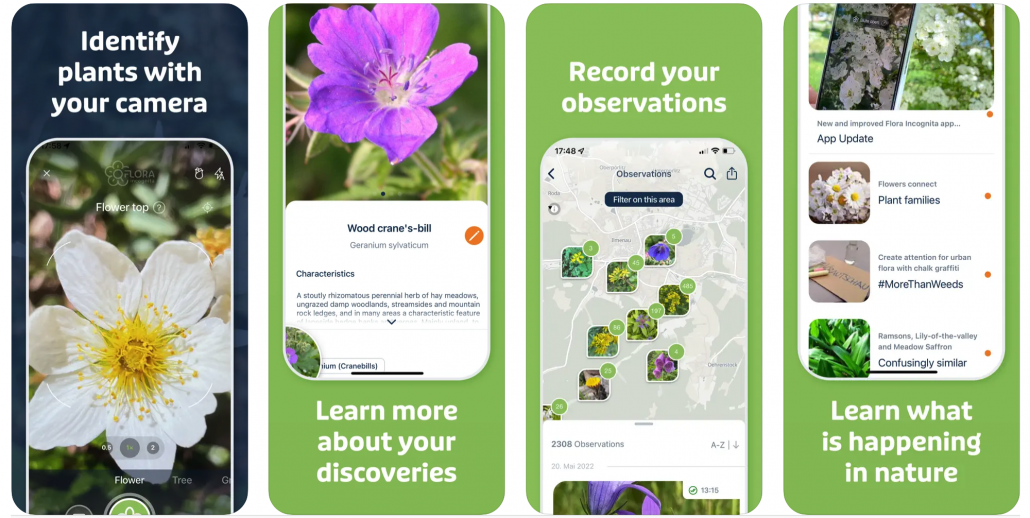 1
Photograph a plant from defined perspectives.
2
The result of the automatic identification is displayed within seconds.
3
Learn more about your discovery with the plant fact sheet.
4
Review your plant findings on a personalized map.
5
Keep up-to-date with app news and plant knowledge facts in the Flora stories!
My observations
After the user has confirmed the observation during the identification process, the observation is stored in the personal plant list. This plant list can be searched, sorted and exported in comma-separated values format (CSV). Upon selecting an individual observation, users can review all details, revise the identified taxon and share the observation via social media.
Species list
The species list shows all species currently identifiable with the system and can be searched by scientific name, common name, genus and life form or a combination thereof. For each species, a comprehensive fact sheet provides information about its characteristics, ecology, toxicity and status. These fact sheets are automatically updated to the user's current location meaning that they include ecological, protection and distribution information relevant at this position. Additionally, the fact sheets contain links to national floristic websites providing more in-depth information that goes beyond the average user interest. While we aim for high-quality fact sheets across all supported languages and for a global geographic range, not all information is available yet. We are continuously adding content and have designed a solution that facilitates complete flexibility. For example, we are collaborating with KOSMOS, a publisher of widely renowned analogue field guides, to integrate their species fact sheets for customers who purchased field guides from the 'Was blüht denn da?' series. Future collaborations include the development of children-specific fact sheets. Where multiple fact sheets are available, the user can select the desired one via the app's settings.
News
In the Flora stories, we discuss app-related topics, for example, how to take pictures most suitable for automated identification and keep users informed with frequently updated stories about topics related to plant diversity.
Please cite the Flora Incognita app as follows:
Mäder, P., Boho, D., Rzanny, M., Seeland, M., Wittich, H. C., Deggelmann, A., & Wäldchen, J. (2021). The flora incognita app–interactive plant species identification. Methods in Ecology and Evolution.